DigiBC is excited to have Conquer Mobile present: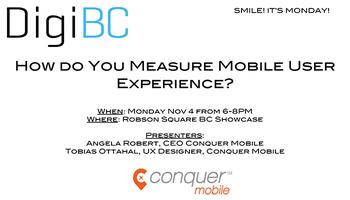 In a world dominated by KPIs and analytics, User Experience (UX) must prove its worth. But how do you measure an experience? It is notoriously hard to pin down the value of UX.
We'll look at a wide range of metrics and techniques for gauging mobile app UX. At one end of the spectrum there are the traditional measures of 'money saved' through task efficiency and 'money earned' through increased loyalty and referrals. At the other extreme, we'll preview some cutting edge ideas for measuring user emotion and stress.
Presenters:
Angela Robert, CEO Conquer Mobile
Tobias Ottahal, UX Designer, Conquer Mobile
CAN'T WAIT TO SEE YOU!
BC Showcase Robson Square
800 Robson St, Vancouver, BC
Monday, Nov. 4th, 6:00 to 8:00 PM
Registration via Eventbrite
About Conquer Mobile
Mobile Strategy and Enterprise Workforce Solutions
Conquer Mobile is a specialist in mobile strategy and mobile workforce solutions. With deep expertise in iOS, mobile security, 3D visualization and SharePoint integration,  Conquer Mobile has become a trusted expert for secure, custom business apps.